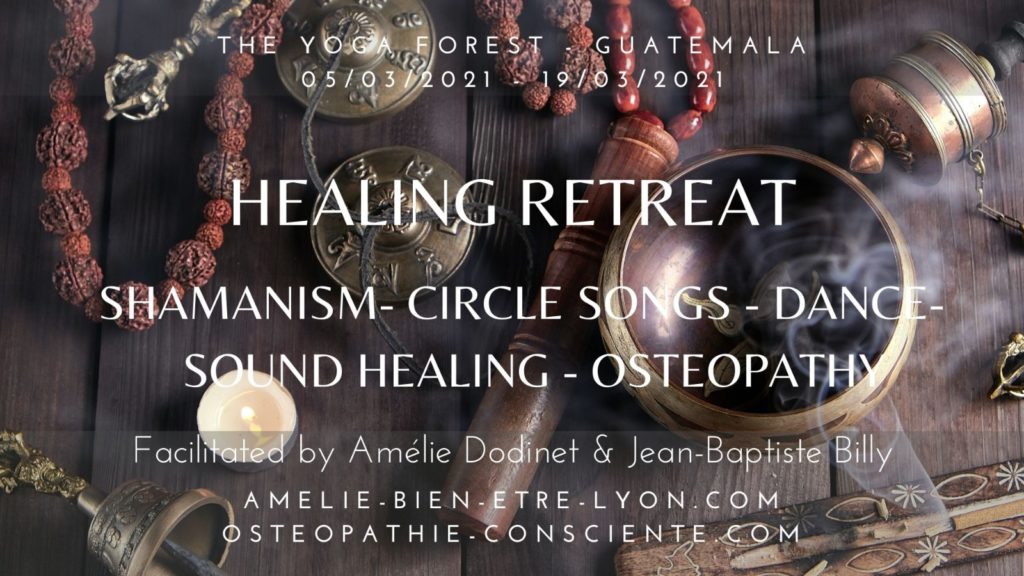 HEALING RETREAT – GUATEMALA
SHAMANISM – CIRCLE SONGS – SOUND HEALING – DANCE – BREATH – FREEDOM
FROM LISTENING TO PRESENCE, FROM SOUND TO SILENCE
In this training you will learn how to journey into a deep meditative inquiry on the Source of all Sound and from there find many tools to assist in shifting frequencies, healing emotional and psychological scars and opening parts of the heart and mind that you never knew existed! Come traverse the sphere of your consciousness as we create the space for transformation.
A simple and powerful shamanic program offered in a safe environment which is naturally conducive to the work of letting go of our past and manifesting our dreams. Each day will be filled with lessons that contain stories, insights, systems and tools that can be applied to your personal and professional life. Through methods such as meditation, yoga, osteopathy, circles songs, sound healing and shamanic ceremonies we will uncover deeper layers of Self and practice the art of living in the present moment.
Teachers
Amélie DODINET
Amélie is french and has been a therapist for ten years. She offers individual consultations, retreats and training (shamanism, sound therapy, sacred songs, sacred femininity) in France and abroad. Her mission is helping people reach their divine. Intuitive and hypersensitive, Amélie early passionate about spirituality and expanded states of consciousness. A traveler at heart, she has had an experience of Unity in the Amazon and fell in love with the shamanic vision. She decided to train at the Foundation for Shamanic Studies in different shamanic techniques, mainly by drumming and singing. She followed the Sound Ceremony training and discovered her Voice, and intuitive instruments that go perfectly with the shamanic drum. There she experienced cacao ceremonies and the work of this Spirit to open the heart. She dreams of a project in which travel, shamanism, song, sounds, heart and the divine could come together.
Jean-Baptiste BILLY
Jean-Baptiste Billy is a french Osteopath and therapist. Since the opening of his osteopathy practice in 2009, his professional and personal journey has been marked by experiences, trips, meetings, training and teaching: Hypnosis, Psycho-Bodily, Tantrism, Shamanism. Knowing these different approaches allowed him to open up to other levels of consciousness. This has enriched his therapeutic practice with the aim of best supporting the person to reveal themselves. Practicing extreme sports has always taken him out of his comfort zones and gave him a taste for adventure. The discovery of Tantra allowed him to deepen his relationship with himself, and understand the importance of the work of reconciliation between woman and man. Today, he feels the need to share his knowledge, both in groups and individually, in order to use these life experiences by bringing a liberation of being. Having discovered the effectiveness and relevance of group work, since 2017 he has been starting to lead group workshops around the movement, sound, breath and freedom.